Penny list for Dollar General!
  Get Notified
GET OUR App
Or Text
@glitchme
to 81010
As far as we know there are no new pennies for Tuesday, January 22nd.  If we find out anything we will update before Tuesday.  I did want to get this posted so you can scope out Christmas at your stores.  Christmas will be going to 25¢!  So anything that is included with Christmas, besides the plastics list, should go to 25¢.  Many people have been asking about candy and gift sets.  There are exclusions.  Most trees, lights, and wrapping paper do not get marked down any further.  Most gift sets get sent over to Valentines as do much of the candy that does not look "Christmasy".  You can always ask for a price check on items that are not pennies.  If you ask and the item is a penny, you can be refused sale as they consider this fishing for pennies.
I am asking for your help on getting the Penny Puss APP with DG Penny Finder updated. Please send your clearance and penny finds through the app at the bottom where it says "share your finds".   We can't do this without you.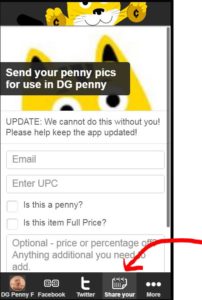 This page in the app may change slightly when Tuesday gets here.
The holiday plastics that we posted last week, should be going to 70% and the suncare to 90%.  The lists are in this post.  Even at 70%, you can verify the UPC's and let us know.  We really do appreciate all the help we can get ahead of items actually pennying.
You can see more about the Penny Puss APP at PennyPussAPP.com.  While the app itself does not have a scanner, you can opt to get a scanner app that can be added to your keyboard.  For Android, the app that I use is in the first line of the app itself.  For iPhone, if anyone knows a scanner that can be added, please let me know.  Thanks!
January 15th – no new pennies again!
We do have some new 25-50% off clearance though.
These new markdowns are not yet in the Penny Puss APP with DG Penny Finder, but I will start updating it soon and mark then at the percentage they are at as not to confuse them with penny items.
You can see more about the Penny Puss APP at PennyPussAPP.com.
January 8th there were no new pennies.
Previous pennies:
January 1st Dollar General Penny List!  Check out the video for new pennies and markdowns!
You can find out more about the DG Penny Finder by going to PennyPussAPP.com!
The Penny Puss APP with DG Penny Finder is a tool for in store use.  If you have trouble getting a signal in the store, try going towards the front of the store.  That usually works for me.  We have no affiliation with Dollar General and post the best information that we have available to us.  As always, YMMV.
Prior pennies are below.
December 26th Dollar General Penny List is for the Holiday Hostess:

Dec 11 list:
La Victoria Green Chilies Diced 4 oz 072101046201
Prior penny lists.
If you are new to penny shopping, please check out this video to understand the basics of penny shopping: https://youtu.be/jm6gXy-rL1I.
Also, if you have the Penny Puss APP with DG Penny Finder, check out the video on how to add a barcode scanner!
Happy shopping!
These are screenshots of the PennyPuss APP with DG Penny Finder.
I'd like you to check out the Penny Puss APP with DG Penny Finder.
If you are new to penny shopping, the app really helps.
Happy shopping!
Join The Dollar General Group and score all of the hidden deals that you will not find Anywhere else.