I made a last minute dash to Publix today before the sales end to scoop up some GREAT deals. I had to wait quite a while to get a Publix much closer to my house but I am LOVING IT! The BOGO sales each week are really what set them apart in my opinion, as well as the plethora of store coupons and acceptance of competitor's coupons.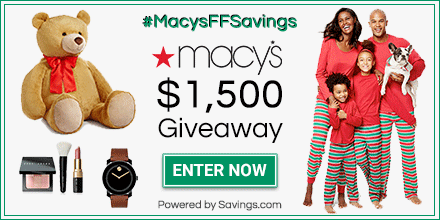 When you shop at Publix, always be sure to check for the Grocery Advantage flyer (called the Green flyer in the coupon community) and the Health & Beauty flyer (called the Purple flyer). Both are packed with Publix store coupons that can be stacked with manufacturer coupons on the same item. Remember they also take competitor's coupons. Each store based on its geographical location has their own stores they consider competitors. All the deals I did today can be done through Tuesday 10/11 or Wednesday 10/12, depending on when your store switches sales. My region is NC ends on Tuesdays.
THE DEALS:
Bought 1 Log Cabin Syrup, $2.00 clearance price
Used $0.50/1 Log Cabin Syrup printable (NLA)
Bought 2 Centrum Womens' Gummy Vitamins, $8.49 ea.
Used 2 $4/1 Centrum MultiGummies 70 ct. or larger (RP 10/2)
Stacked with $4/2 Centrum 50-80 ct Vitamins Publix store coupon (purple flyer valid through 10/21)
Bought 2 Pam Cooking Sprays, $3.69 BOGO FREE 
Bought 1 Betty Crocker Chocolate Chip Cookie Mix, $1.25 (priced at $2.49 BOGO Free. In NC, each item rings up at half price in a BOGO sale)
Submit for $0.50/1 Betty Crocker Baking Mix or Frosting Ibotta Rebate
Bought 3 Mars Halloween Bags, $3.99 BOGO FREE
Used $2/3 Mars Fun Size Halloween Candy 9-21.5 oz (SS 9/11)
Bought 2 Cooked Perfect Meatballs, $7.99 BOGO free
Used 2 $1.50/1 Cooked Perfect Meatball Bags (SS 8/28)
*blogger's note: there are additional $1.50 off Publix store coupons floating around in a booklet titled "Explore New Flavors". I must have walked that store 3 times looking for them — no dice. They are PRINTABLE THOUGH! PRINT THEM HERE*
Bought 2 Red Lobster Biscuit Mixes, $2.49 BOGO Free
Bought 3 Children's Advil, $5.99 ea.
Used 3 $3/1 Children's Advil (RP 10/2) exp 10/26
Stacked with 3 $2/1 Children's Advil 4 oz Publix store coupon (Purple flyer valid through 10/21)
Bought 2 Clorox Wipes 2/$7
Used $1.50/2 Clorox Clean Up products, Disinfecting Wipes 34 ct.+, Liquid Bleach 55 oz.+, or any Clorox Manual Toilet Bowl Cleaner products (SS 10/2) exp 11/2
Stack with $2/2 Clorox Disinfecting Wipes Publix store coupon (purple flyer valid through 10/21)
OTHER COUPONS USED
Used $4/$40 Total Purchase Food Lion coupon
Used 3 $1.99 Register Rewards from Walgreens (received from The Mentos Now Deal, see HERE)
Paid: $21.40, received $0.50 back from Ibotta 
Total Saved: $74.19, an 81% savings!
Publix Weekly Coupon Deals
Get your lists ready & your coupons printed! Make sure you have a copy of their Coupon Policy before you head out!